I got Piper, an 8 week old West Highland Terrier from my friend's parents.
I work at Eagle Ridge Manor and the residents really wanted a dog of their own. Plus the owners of the dog really encouraged the idea of bringing him to the seniors' home. That concept became complicated, so I inquired about getting a dog that I could bring to work and share with the folks who live there.
My Manager stated the dog would have to"fit" the Manor for it to be a successful venture so I thought some dog training would be a must.


Walking Piper through our local park I noticed a dog training session taking place. I would watch from afar to see what they were doing. I immediately noticed a couple who was heading to that class and they had two Westies that were very well behaved heeling off leash at their master's side. They gave me a business card that leads to Sit Happens and their story of their two Westies (Sherman & Kirby) who were featured as Puppy of the Month.
I checked out the website www.SitHappensDogTraining.ca and read the puppy of the month story as well as other testimonials and made the call to meet the trainer, Jeff and have a free consultation.
Jeff was very pleasant and guaranteed that his training methods would fit the goals I had for Piper which was to bring him to work with me at the Manor.
Once I signed up for the life time training there was immediate success. The first hour in home session was amazing! Piper was coming when called during that first session. From there we went on weekends for a scheduled group hour session in local parks. Piper began learning new commands very quickly such as Come, sit, down, heel, place, off, and quiet. Really I was the one being trained to be consistent with Piper and success grew from there. We both practiced what we learned each weekend and things moved quickly from there. Piper was now off leash and following these commands consistently.
My confidence grew as well as Piper's
Piper would then follow me at work at my side; I could put him in place while I lead an activity with the residents. That meant Piper was relaxing on a floor mat watching the residents during an activity or playing with his toys. The residents, staff, volunteers and family love having him be apart of their lives. Piper is everyone's dog at Eagle Ridge Manor.


One of my programs is called "Pets N' People" where animals, mostly dogs come to visit us in the Manor and residents have an opportunity to interact with the animals as well as the owners. Most of the seniors have had their own pets and really do miss the contact and unconditional love that a pet can bring.

Within a few short months Piper was a very well trained and happy puppy.
People often thought Piper was much older than he was because he was so even tempered and well behaved. I consider myself very lucky to be able to bring Piper to work and thank everyone at Eagle Ridge Manor for the opportunity.

Piper and I love going to class every weekend, not because we need it but because we love the trainers as well as everyone else in the class. It's a great social outlet for the both of us. Thank-you for making me a better dog owner.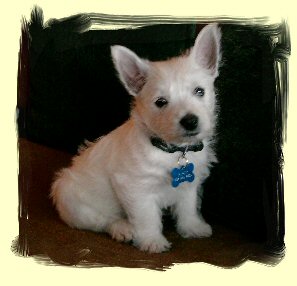 I would not hesitate to recommend Sit Happens to anyone who wants a well behaved dog. In fact I have recommended it and now they too are seeing great results.
Well done Jeff!
Love Piper & Kenzie