My husband and I adopted Jack at 1 year old from another family. We knew we would have to work on some issues  with him because from about six months of age the family kept him outside. When we brought him home he couldn't walk on the laminate flooring, he was scared of the television and it took him over a week to get use to his new surroundings. He didn't really know any basic commands and I was concerned how we were going to keep him from chasing my cat.
Jack weighs about eighty pounds which made play time impossible because he jumped all over us. He even jumped on us when we were on the couch watching a movie! On walks he pulled so strongly on the leash that we just crossed our fingers we wouldn't run into another dog. Jack is STRONG and if he really wanted to go….he wouldn't let us hold him back. Our house is on a busy street and something had to be done for Jack's own safety. We knew we were in over our heads.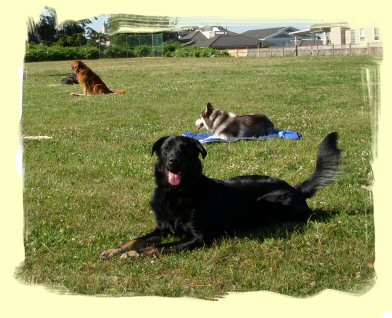 Despite his bad manners Jack has a very good and loving nature. With some training he would be a great family dog. My sister recommended Sit Happens and I made a consultation appointment right away. Sit Happens came to our house, explained how the training works, and even gave us a demonstration with their own dog. What we saw was unbelievable! My husband and I were very excited when they told us that Jack would be obeying us the same way. They were right! Jack was quick to learn and he actually seems like a happier dog now that he knows how to behave. We now enjoy and look forward to play time in the backyard and long walks.
The best thing about the whole experience is that this hasn't taken years to achieve! The results were obvious right away and it's still only a few months since the training began. We still have things to work on of course so we attend outdoor classes about once a week.
Thank you Sit Happens. You have made all the difference, and thanks to your program we have a wonderful dog we can take anywhere without worry!
From
Jenn, Darin and Jack