Emma, our lively, exuberant pointer cross, came to live with us July 3, 2002 at the tender age of 8 weeks. I realized at the end of the first week, that she was far more energetic than any other puppy we had ever lived with!
I quickly enrolled her in obedience classes, where she learned the basic commands (sit, heel, come) … however her reliability rate was only about 50% (on a good day). I thought that she would eventually just outgrow this 'puppy stage' and with maturity become the dog that I expected (we were in denial).
At six months, she was still jumping up on the counters, jumping on people, lunging on the leash, chewing shoes, socks, underwear and somewhere along the line 'Come' had come to mean 'catch me if you can' … and I spent more hours than I care to admit to chasing Emma around the couch trying to get my good leather shoe out of her mouth. I'm sure she thought her name was 'Emma-No'. I couldn't turn my back on her for a minute because she was into everything …
I was getting frustrated and exhausted. I had started avoiding the parks on our walks because if there were other dogs there she would want to play with them which would end up with us in a tangled mess of leashes …letting her off leash was definitely not an option… at that point I couldn't imagine EVER being able to let her run free with other dogs in the park. I was (secretly) beginning to think that maybe we should be looking for another home for her. Puppy biting had turned into aggressive play and a simple game of fetch would turn quickly into torn pant legs and t-shirt hems. The day our daughter said that she didn't want to stay home alone with Emma because she was afraid of her ..I knew I had to do something.

I called Jeff because two phrases in his brochure had intrigued me … immediate results and off leash training. We had immediate results within the first week of training; shoes, underwear and socks were now safe, counter surfing gone, and the best of all was that once again come meant come. But could we actually let her off leash??? Emma was off leash in the park with the other dogs by her second class, and we can regularly and reliably let her off leash anywhere with any dogs all the time (in fact many times I forget to even take a leash!)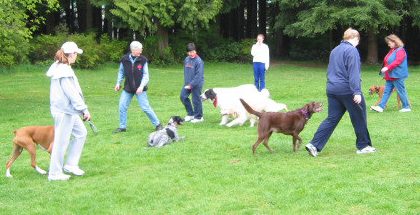 Jeff's training methods fit right into our daily routine ..we didn't have to set aside special 'training time' … everyday life became our training sessions. Jeff's training taught Emma to think … and a dog that exercises mentally is a much more reliable dog … and calmer.
All of the 'puppy problems' that I hoped she would just grow out of, disappeared within the first few weeks. I wish that we had known Jeff to help us train our other dogs …I can't imagine training a dog any other way.
Emma is still our lively, exuberant, energetic puppy, but now I can add well-behaved. Everyone that meets her comments on what a good dog she is …the greatest compliment your dog can receive! I KNOW that she will respond to EVERY command EVERY time.
Thank you Jeff!