We had been without a dog in our family for three years when we got the idea that we wanted another dog. Our last dog, Maddi the Malti-Poo, was an absolute delight, never got into trouble and was easy to train. We looked for another Malti-Poo but were disappointed in what we could find. We had met a Havanese  and liked the look and the fact that they are hypoallergenic so we decided we wanted one. Admittedly, we didn't really do a lot of research into the breed.
We picked Brinkley out of a litter of 4 pups when he was about 6 weeks old. The breeder's home was full of rambunctious Havanese and the only caution she had for us was that Havanese have a "paper shredding" gene.
We brought Brinkley home when he was 8 weeks old and introduced him to our 21 month old grandson – they were buddies from the get go. However, as Brinkley got older his play was a little too rough. We wanted Brinkley to be on his best behaviour around our grandson so we began training him shortly after he came to live with us but the trainers we worked with used treats for training. This proved to be only partially successful with Brinkley – he would only do as he was told if there were treats involved.
Brinkley turned out to be very headstrong and felt that he was the pack leader. He would only do things if he wanted to do them. Brinkley was also determined to "run" and he is fast. As soon as the front door opened he was off – headed straight for one of two busy streets near our house. Kids and other dogs were his favourite distractions. On the other hand when we walked Brinkley he would sit down every few minutes until we coaxed him to keep walking. His "paper shredding" gene turned into "I'm going to eat everything I can get in my mouth" so we had to set up baby gates all over the house. We also thought that Havanese didn't bark much – boy were we wrong! Brinkley was constantly warning us about every little sound and he wanted to talk to every dog in the neighbourhood. We were constantly scolding and yelling at Brinkley. We called him our little Terrorist! We wondered if we had made a mistake in choosing a Havanese.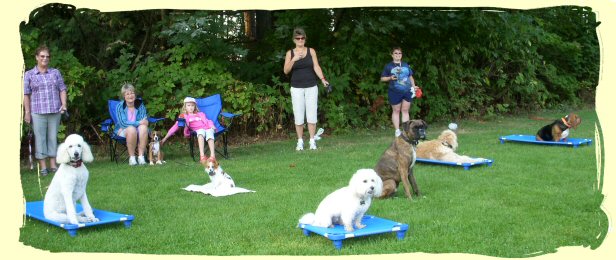 One afternoon, our neighbour walked by with her dog – off leash! I asked her about the training method that she used and she told me about Jeff and Sit Happens. When she told me that she would give her dog the command "yard" and he wouldn't step off their front lawn – I was sold!


Shortly after visiting the Sit Happens website, Jeff met with us at our home and explained his training program. All I asked of the program was to make Brinkley safe. Jeff demonstrated his method with two of his dogs on our front lawn – 3 houses from a very busy street! Neither his 4 month old Jack Russell puppy nor his adult Doberman were on leashes. We were still somewhat sceptical, I even told Jeff that Brinkley wouldn't work for praise. Then Jeff started working with Brinkley – in the middle of our street! No treats were involved and Brinkley was responding and coming to Jeff without hesitation. Jeff never had to raise his voice and Brinkley paid full attention.
Jeff came back a few days later and, again on the front street, began training us on how to work with Brinkley. In an hour we had a completely different dog! Jeff had promised that we could take down the baby gates right away. He was right, when Jeff came back a week later the baby gates were down and Brinkley waited at the front door for Jeff to come in. Brinkley was finally safe! Jeff explained how we could train Brinkley to stay in a specific location and we were able to train him to come to the RE/MAX office and have him stay in our office with a simple "office" command.
We continued with the training classes held in public parks and within a few more weeks I mentioned to Jeff that I thought Brinkley was getting close to being able to go off leash. Jeff coached me to keep the leash in
hand as if he was still hooked on and Jeff released the leash from Brinkley's collar. Brinkley was walking off leash in a public park with 15 other dogs around and he never left my side! Brinkley was safe! In just 2 months we had gone from a terrorist Havanese to an amazingly well trained companion. In addition to being able to open the front door without restraining Brinkley we can now walk and run with Brinkley off leash. He no longer stops after a few blocks and can walk by other dogs, people and children without having to stop and play. He's a pleasure to take for a walk and is my running partner for my training runs. Brinkley has a ball playing with our grandson and we are comfortable with him around our newest grandson who is now crawling. Sit Happens has been a blessing for us. We happily recommend Jeff's program to everyone.